SWEET DEAL ALERT!!!
Get in on this deal from Julep before it's gone! I am loving these colors they've put together. I've used Julep so many times to get their beautiful polishes. Each time they would come in the mail, it was like a mini spaz attack! Haha!

We take inspiration from all over the place for the oodles of nail looks we create. Today, our big influence is delicious pie…mmm. That's because 3/14 is Pi Day. What is Pi, you ask? Pi is the numerical value of the ratio of the circumference of a circle to its diameter which is approximately 3.14159. I know, we're mixing our metaphors a little here, but it's all for a good cause—cute nails!
Our nail look below is inspired by Cherry Almond Pie. We used scotch tape and three Julep polishes to create this look. Today through 3/16, you can get this 3-Piece Polish Gift for just $14! Normally, each polish is $14 each, so this is truly a sweet steal.
Meghan (Classic with a Twist): Flaming red crème polish
Cassandra (Bombshell): Deep cabernet crème polish
Oxygen Performance Top Coat: Adds shine and stamina to your nail polish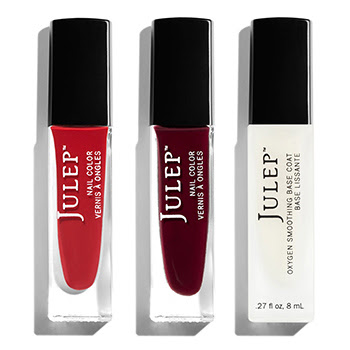 DISCLAIMER: The links in this post may contain affiliate links that allow me to be compensated should you use it to make a purchase with the company.